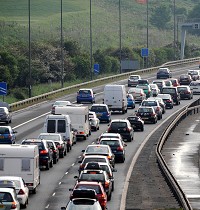 The majority of motorists just are not keen on public transport - with more than half saying they would rather be stuck in a traffic jam than use it.
Yet an RAC Foundation/Ipsos Mori poll of nearly 1,000 adults showed that 77% would like to see an increase in the number and frequency of buses as a way of tackling traffic growth.
Congestion was considered a serious problem in their area by more than two in five drivers, compared with a figure of 63% in 1999, with 61% believing the problem will worsen over the next five years.
But 44% of drivers opposed a congestion charge even if the cash was spent on improving local transport, compared with 32% in 2001. The poll showed that fewer than 30% were optimistic about the future of train and bus services.
Professor Stephen Glaister, director of the RAC Foundation, said: "People have come to regard congestion as less of an issue, but this flies in the face of the fact it is increasing. The public are also pessimistic about what they expect from tomorrow's transport system. This is an indictment of the politicians who have repeatedly failed to tackle it in a meaningful way."
Copyright © Press Association 2009