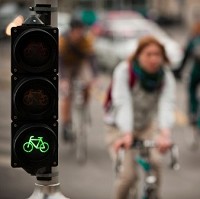 A new survey conducted online has shown that 32% of drivers don't cycle 'for safety reasons'.
Research carried out by Motors.co.uk, a vehicle bidding website, asked 2,000 motorists a series of questions about their feelings towards cyclists.
The 32% who blamed safety reasons for their lack of pedal-pushing also said that Britain's roads are unsuitable for cyclists and over a quarter of the 2,000 surveyed would be happy to see more investment made into making the roads more cyclist-friendly.
Since the success of Team GB in this summer's Olympics, new research from YouGov has shown that one in 10 drivers admitted that their perception of cyclists has increased since the games.
A further 6% have said that they are now spending more time on their bike as a result.
Phill Jones, commercial director of Motors.co.uk, said: "The onus is on the Government to facilitate cycling for the nation, and it is clear that conditions need to vastly improve before we really see the effects of this on Britain's roads."
Copyright Press Association 2012