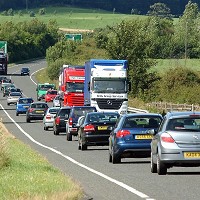 A leading Government figure has promised motorists better roads after admitting that the country's highway network has been "neglected" over the past four decades.
Danny Alexander said that Chancellor George Osborne's Autumn Statement on December 3 will outline major upgrades to key routes.
These will include the A47 and A1 as well as South-West England's A303.
The Treasury Chief Secretary's pledge of "pretty chunky" amounts of cash being invested in roads came in The House publication. He said six routes have been identified as being of major strategic value to the UK.
Mr Alexander called the A303 an important "economic artery" for England's South-West, while the stretch of A1 earmarked for upgrading is above Newcastle.
He said that detailed plans would be given on the six routes, which could see improvements between 2019 and 2024.
Mr Alexander claimed that there has been little activity on the UK's road network over the last 30 to 40 years.
RAC spokesman Simon Williams said: "We look forward to understanding the full extent of the improvement projects, as motorists in the UK have had to endure sub-standard road conditions on parts of our network for many years.
"In the RAC's Report on Motoring 2014 we make it clear that the Government should give the highest priority to a nationwide programme of repair and proactive preventative maintenance, as estimates suggest an investment of £12bn is required in England alone to bring the road network up to standard, and fit for purpose."
Copyright Press Association 2014