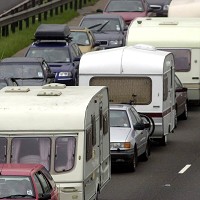 The RAC is warning motorists to prepare for havoc on the roads this weekend as the big summer getaway begins.
Around 2.6 million holidaymakers are expected to take to the roads on Friday evening, causing certain routes to become gridlocked during rush hour.
The 'perfect storm' of families setting off on holiday as soon as the school term ends, combined with people attending summer events and the usual busy commuter traffic means Britain is gearing up for 'Black Friday' on the roads.
RAC head of external affairs Pete Williams says: "Our data shows that summer holiday traffic is going to be concentrated on our roads this coming weekend, causing gridlock and delays for many on the busiest 'getaway' routes. We're expecting Black Friday to be particularly hectic, as the majority of families will be squeezing their journeys into the end of the day."
Saturday is likely to see even more people travelling, with 2.9 million on the roads, RAC data shows. However, journeys will be spread out throughout the day, so queues should not be so long.
The RAC estimates that as many as 7.5 million motorists will be travelling sometime between Friday and Sunday.
Mr Williams says: "Our advice is to try to leave first thing on Friday, or set the alarm clocks early on Saturday or Sunday and get away before traffic builds. The usual coast-bound routes like the M5, A30 and A303 south and west into Devon, the M6 (both southbound and northbound towards the Lake District) and the M1 are all likely to see traffic jams.
"Routes to Britain's seaports will also be subject to delays - and motorists will be hoping that their journeys to the Continent aren't disrupted by striking French port workers or Operation Stack kicking in once again on the M20 in Kent."
The RAC is also urging motorists to ensure their car is in a roadworthy condition before setting out on their journey to avoid a breakdown .
"Check coolant, oil and washer fluid levels are properly topped up, and tyres are at the correct pressure with plenty of tread," Mr Williams advises.
"If you are hooking up your caravan for the first time in a while then pay special attention to the condition of the tyres, as they can deteriorate if they haven't been used for a while. Make sure you don't overload your vehicle, and give a passenger a spare set of keys: there's no quicker way to spoil the start of a family holiday than having them locked in the boot."
RAC sources for motorists:
¥ Check the latest roadworks via Traffic England, Traffic Scotland or Traffic Wales
¥ Plan a route quickly with the RAC App for iPhone or Android, or online RAC Route Planner
¥ Know what you should be paying for fuel at the pumps by checking #racfuelwatch on Twitter
Copyright Press Association 2015
https://twitter.com/hashtag/RACfuelwatch?src=hash (#racfuelwatch)