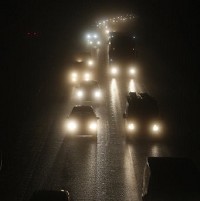 The Institute of Advanced Motorists (IAM) has offered some tips on driving in the dark on motorways, with the UK's top advanced driver warning road users to prepare differently than during daylight hours.
Peter Rodger has told drivers to give themselves the best chance of identifying hazards by keeping their lights and windscreen clean. He advised employing the vehicle's full beam when the road is clear and ensuring there are few reflections on the car's windows by switching off interior lights and dimming the dashboard.
Mr Rodger said: "Currently there are several stretches of motorway in Britain which have no lighting, making the hours of darkness even more challenging for motorists."
The experienced driver has urged motorists to ensure they are able to stop comfortably within the distance they can see. Those who are forced to use theirbreakdown cover should pull over as far as possible on the hard shoulder, with the wheels facing the kerb.
"Driving after the sun goes down offers a rather different experience to driving in daylight. Speed is more difficult to judge, distances can be hard to calculate, facing a wall of headlights can cause distraction and impaired vision, and you are likely to be more tired than usual," Mr Rodger added.
Copyright Press Association 2013