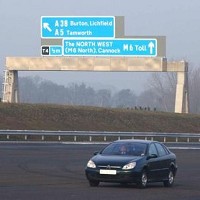 Traffic police stopped a car being driven at 50mph the wrong way down a motorway by deliberately crashing into it.
A 77-year-old driver, who has dementia, drove his Honda Jazz in the wrong direction on the West Midlands' M6 toll.
Police managed to stop the pensioner through "tactical contact", or an intentional head-on collision.
The motorist, of Rowley Regis, West Midlands, escaped unhurt but a police officer sustained minor injuries.
No other drivers were hurt after the man's wrong-way driving was reported between junctions T4 and T5.
A police spokesman, who spoke of his "relief" that no innocent motorists were hurt, described the situation as "extremely unusual" as the motorist displayed no sign of remedying his mistake.
He praised traffic officers' bravery at preventing a serious injury.
The man has been returned safely to his family's care.
Copyright Press Association 2014