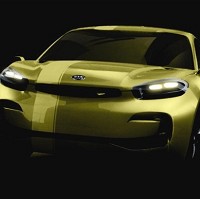 Kia's new supermini-sized concept car is to be unveiled to the public at the Seoul Motor Show.
The CUB features a "tiger nose" grille, LED lights on its headlights and large curved air intakes on each side of the front bumper. Other attractions include large alloy wheels and flared rear wheel arches.
So far, Kia has only released one basic image of the car, which seems to show a stripe running the length of the vehicle, giving it a sporty feel.
Its technical specifications have not yet been released, althoughKia has previously said the CUB is less than four metres long - which is shorter than other superminis on the market.
The new concept car is the brains of Kia's Korean design studio and will be revealed a day after the company unveils the new Soul at the 2013 New York Auto Show. Earlier this month, Kia unveiled another new model - the Provo concept car - at the 2013 Geneva Motor Show.
Full details of the CUB car are due to be released at the motor show on Thursday.
Copyright Press Association 2013