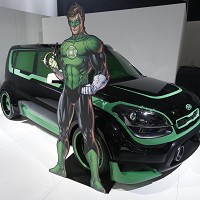 Two special cars based on comic-book heroes have been put on show in the USA to help raise money for famine efforts in Africa.
The Batman-themed Kia Optima and the Green Lantern-decorated Kia Soul are being viewed by the public at the South Korean manufacturer's exhibit in Detroit.
The cars include Batman graphics on the Optima's interior and exterior, while the Green Lantern symbol vamps up the tyres on the Soul.
The cars were made in a collaboration with DC Entertainment, combining the Justice League figures with the catchphrase, "We Can Be Heroes."
The North American International Auto Show is due to open this weekend and ends on January 27.
There is also a special Hot Wheels Chevrolet Camaro at the event, which is set to impress adults and children alike.
General Motors revealed in 2012 that it would produce a Hot Wheels car based on the famous toy, with authentic details such as red-coloured wheels. The car has been placed on a life-size track.
GM has announced that the Hot Wheels vehicle would be available as a coupe and convertible in a special blue colour.
Copyright Press Association 2013