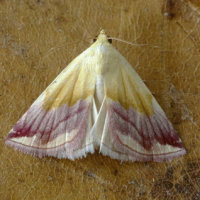 One humble moth has disabled the advanced technology behind a self-driving Tesla car.
A Model S driver told on social media how the insect stymied his drive on the isolated stretch of road linking Kingman with Las Vegas.
The Reddit user, known only as Redebo, says that a massive moth flew into the 's front-facing radar sensor.
This rendered useless the Autopilot system that enables many Teslas to drive themselves.
The car instantly commanded Redebo to take over the car's controls after the Autopilot and cruise control dropped off. He was then warned that the machine's radar visibility had been lowered.
The driver stopped at a petrol forecourt and examined underneath the vehicle's fake grille and expected the worst. There he found that a simple moth was the culprit.
READ MORE: See the five most advanced driverless cars currently available to buy
The motorist soon retrieved the situation by scraping The Tesla's radar opening with a window squeegee to get the technology going again.
Tesla says that insects this huge very rarely impede most of the Model S's radar sensors. It says this could not have occurred with the revamped version.
The high-tech car firm says the new Model S has no exposed sensors. The one impacted in this case is now hidden behind the new version's nose front bodywork.
The make's owner's manual admits that Autopilot has its limitations. It says that Autosteer cannot ascertain lane markings with much accuracy when snow, fog or heavy rain brings bad visibility.
The same applies when a sensor or camera is damaged, covered or obstructed. It recommends that owners are on permanent standby to take control.
HAVE YOU SEEN? 'Driverless cars set to liberate the elderly'
Copyright Press Association 2016. Motoring News articles do not reflect the RAC's views unless clearly stated.