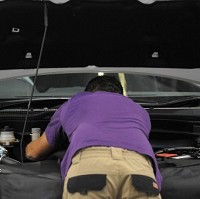 Two-thirds of female motorists in Britain never check their brake fluid levels, research by Trust My Garage shows.
The independent garage scheme conducted a survey of 100 women drivers to discover if they carry out regular maintenance checks on their cars. It discovered most never get their hands dirty under the bonnet.
Almost two in three female motorists do not check their engine coolant, while just fewer than 50% never check their oil levels. Only 4% of women polled said they perform routine brake fluid checks.
Drivers are advised to check fluid levels regularly and before any long journey to ensure they do not encounter any engine problems.
Brake fluid is generally clear with a gold or straw coloured tint. If it is black it means it could be contaminated and needs to be replaced.
Motorists should check engine coolant each week to make sure it is not leaking, as leaks could result in abreakdown . A coolant leak which goes unnoticed can see a car become overheated when on the road.
Oil levels should also be checked weekly. Oil levels which drop below the "low" mark could leave drivers with an expensive bill to fix a damaged engine.
Copyright Press Association 2013