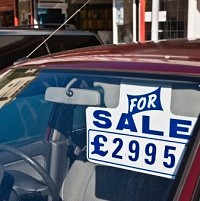 A new report suggests that the majority of used cars that are sold are not actually fit to be driven on the roads.
Research based on 1,000-plus cars purchased in the past 12 months revealed that nine in 10 are faulty. Nearly 33% were written off or had been involved in a crime incident, or were paid for with loans that had not been cleared.
According to study commissioners Experian AutoCheck, a total of 88% of the vehicles did not fully comply with the law. Findings showed that cars aged five years and older are likely to have a shady past, while newer vehicles bring hidden debt to their new owners.
Renault Clios were considered the top make for cars with a "dark history" at 93%, with 25% of those found to be discarded from insurance companies. But it was not the only culprit as results discovered that VW Golfs and the Ford Focus were the brands which had the most outstanding debt attached to them.
Most of those two models that car buyers purchased came with debt, resulting in repossession for the customers. Other dangers of buying used cars include a potential breakdown if it has been sold on as faulty, therefore it is advised that buyers also purchasebreakdown cover for added security.
Copyright Press Association 2012