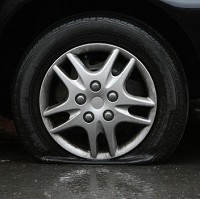 Motorists are statistically far more likely to be involved in a car accident if their tyre pressures are incorrect, a new study suggests.
Police forces nationwide say that 86% of vehicles involved in prangs reported to them contain one or more wrongly inflated tyres.
But such negligence can put drivers' wallets at risk as well as their lives.
Besides being more likely to be involved in a crash, petrol costs can increase by 5% if they tyres are under-inflated by just a fifth.
That is the view of Tyre Bay Direct's officials, in the wake of Sussex Police revealing that nearly three-quarters of accident-hit vehicles it tested had incorrect pressures.
The supplier said that tyres sometimes erode far more quickly than anticipated if their inflation rates are even slightly below recommended levels.
For example, tyres suffering from 20% under-inflation last more than a quarter (26%) less than properly inflated ones.
The firm urges motorists to maintain their tyre pressures to recommended levels every week.
Copyright Press Association 2015