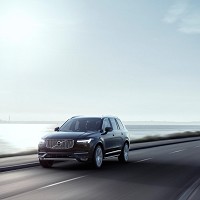 Volvo's luxury SUV has sold out online within just two hectic days.
The limited first edition of the Swedish manufacturer's all-new XC90 has been restricted to just 1,927 to mark the firm's founding year, all of them numbered individually.
Most of these have been snapped up within 60 minutes, with sales peaking at an incredible one vehicle every eight seconds.
So what will buyers get for their money?
The latest XC90 comes with all the reliability associated with Volvo, and buyers will also get a high-performance vehicle with an individualistic tailgate badge and 225 horsepower.
It comes with Drive-E powertrains boasting a quartet of cylinders and a twin turbo D5 diesel engine.
UK Volvo enthusiasts reserved 2.8% of the models available, 55, and will have them delivered next April.
Volvo's Alain Visser says he is pleased and unsurprised at the speedy sales.
Copyright Press Association 2014