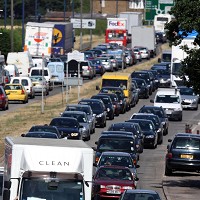 Most van drivers admit they've turned up late for appointments with traffic hold-ups blamed in the vast majority of cases, according to research.
The TomTom study of drivers working as part of a company fleet found 90% had left customers waiting with more than a quarter (27%) regularly late for appointments and 93% blaming traffic conditions.
Having ajourney planner can help but the research also revealed traffic conditions left almost half (49%) the van drivers surveyed feeling stressed with most getting uptight either about being stuck or thinking about the annoyance the delays would cause to customers.
Thomas Schmidt, TomTom Business Solutions' managing director, said although traffic conditions could not be controlled their impact on the service offered by firms could be lessened.
He said: "Advanced fleet management systems, incorporating live traffic information, allow companies to plan around delays and dispatch employees to jobs based on quickest arrival times, not simply who is closest to the customer."
Copyright Press Association 2012