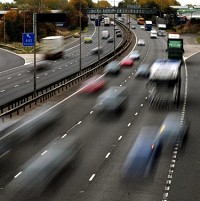 The ecologists' dream of getting most people to commute to work in England by foot or bike may be wishful thinking, a new study suggests.
The University of Leeds-based report shows that under half of workers (44%) can physically commute by either cycling or walking.
This leaves the majority of employees unable to get to and from work except through a motorised mode of transport.
Research leader Ian Philips found that a commuter's capacity to get into work should a petrol shortage arise fluctuates wildly according to where they live.
For example, Dr. Philips said that 8 out of 10 Isles of Scilly workers can cycle or walk to work, making them potentially the healthiest commuters in the UK.
The potentially least healthy are in Sevenoaks, Epping Forest, Tandridge and other districts in outlying London areas which score under 35% when it comes to capacity to cycle or walk to work.
Cycle availability also has a significant bearing on how people can travel to work, especially in rural Cambridge when compared to somewhere like Sheffield, Dr. Philips adds.
He says the report's findings are especially instructive if charted for smaller areas when it comes to people's ability to still get to their office in the event of a fuel crisis.
Affluent suburbs and the countryside are deemed to be the most common areas for commuters being unable to bike or walk to work.
Dr. Philips gleaned his figures from the 7-year-old Health Survey for England, Ordnance Survey border information plus the Census from 14 years ago.
He is presenting his study this week at a 4-day conference (September 1-4) of the Royal Geographical Society at Devon's University of Exeter.
Copyright Press Association 2015