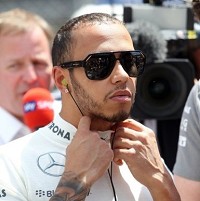 Formula One legend Sir Stirling Moss met up with current star Lewis Hamilton to compare their Mercedes cars.
Hamilton showed Sir Stirling the modern day Silver Arrow car, a similar model to the one he will be racing round the famous Silverstone track at the British GP later this month.
Sir Stirling, meanwhile, was accompanied by the double grand-prix-winning 1954 W196 that Juan Manuel Fangio steered to the second of his five World Drivers' Championships and which will be sold by Bonhams at the Goodwood Festival of Speed on 12 July.
The same model of car was raced by Sir Stirling himself to his first British Grand Prix triumph in 1955.
"Taking a look at Lewis's car today, there's no way would I get in it, but then he said the same thing about mine! He asked where the seatbelts were - we didn't wear seatbelts!" Sir Stirling laughed.
UKcar insurance customers who are big Formula One fans will be hoping the meeting with Sir Stirling will help inspire Hamilton to Silverstone success.
Copyright © Press Association 2013