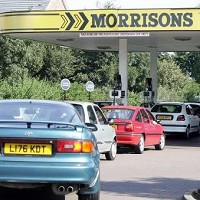 Morrisons has reduced its diesel prices by 2p a litre - prompting its major rivals to quickly follow suit.
With Asda and Tesco both making similar announcements, drivers heading to many supermarket fuel forecourts will now find diesel prices are cheaper than petrol - a situation not seen since 2001.
Morrisons predicts diesel prices will dip below those of unleaded petrol at most of its 336-strong petrol station stable. Asda-bound motorists will pay a maximum of 112.7p a litre of diesel from Tuesday, while Tesco introduced reduced its prices from 1pm on Monday.
RAC fuel spokesman Simon Williams said: "We are now well on the way to seeing a UK fuel price flip - where the average price of diesel is, quite rightly, cheaper than unleaded at the pumps.
"It will also mean that the millions of families setting off on their summer break won't have to pay quite as much when filling up the car.
" RAC Fuel Watch records show diesel was last cheaper than petrol 15 years ago on 17 July 2001, so these price cuts are great news for the nation's 10.7 million diesel car drivers.
"Fifteen years ago when this happened last diesel was cheaper than petrol for two and a half months.
"But with a new supply of diesel being produced from Saudi Arabia there is real chance that we may see the diesel price staying below petrol for some considerable time."
PetrolPrices.com found that the typical UK diesel price stood at 118.21p a litre on Sunday.
Mr Williams added: "With the price of crude oil standing at 56.50 dollars (£36.23) and the pound relatively strong against the US dollar - the fuel trading currency - there is scope for further price cuts of up to 4p per litre off diesel over the next fortnight, and unleaded may even benefit from a slight reduction too due to the continued oversupply of oil.
"Drivers of unleaded petrol vehicles should not feel short-changed - what we are seeing is the diesel pump price coming down to a level closer to what it should be due to the effects of greater refining capacity in the Middle East.
"However, if retailers are buying unleaded and diesel in for a similar price, it is right that they are sold on to motorists at a similar price, or cheaper if the diesel wholesale price is lower."
Copyright Press Association 2015