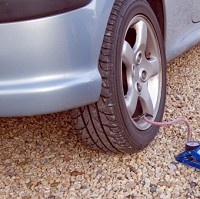 More women are tackling car maintenance, with rising running costs encouraging greater numbers to get under the bonnet.
Nearly two-thirds of women (60%) say they have taken on at least one basic repair or maintenance task on their car, an RAC survey found.
More than half (54%) also regularly check water and oil levels themselves, while a fifth check the pressure and tread of their tyres.
While 27% said they were confident in carrying out maintenance work, 2% also consider themselves "DIY car maintenance experts" - which compares well against the figure of 2.5% among males.
Trust in mechanics was not high, with 22% of the more than 2,000 women surveyed saying they believed garages "rip off" unsavvy customers.
Just 47% of women would take their car straight to a repair garage if they discovered a problem,
RAC patrol woman Louise French said it was "great" that women were getting to grips with car maintenance.
She added that carrying out simple repairs, or seeking advice from friends and family, were a way of keeping running costs down, as was looking out for good car insurance deals.
Copyright Press Association 2012