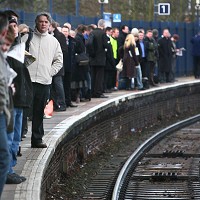 Just a single pound is invested in the country's road network for every £10 spent on the railways, according to a study by the TaxPayers' Alliance and Drivers' Alliance.
The research compared investment in rail and roads, relative to how many people use them.
Figures show that in 2007-08, £8.2billion was spent on the railways compared to £8.3billion on the roads.
But during that year, there were only 59 billion passenger kilometres travelled on the rail network, with 749 billion passenger kilometres completed on the roads.
According to the research, this meant £138.70 was invested in the railways for every 1,000km of passenger journeys, while £11.10 was spent for the same distance covered by motorists.
Peter Roberts, chief executive at the Drivers' Alliance, said: "Adding road capacity is cost effective and provides genuine savings in journey times for the majority of individuals, goods and services."
A spokesman for Network Rail said: "Motorists should welcome investment in Britain's railways as it is one of the best ways to reduce congestion on the roads."
Professor Stephen Glaister, director of the RAC Foundation, said: "In Britain, the car is public transport. It transports most of the people, most of the time. Any spending decisions made by the Treasury have to reflect this."
Copyright © Press Association 2009