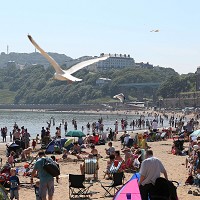 More people are travelling the UK in search of the perfect summer holiday, with the number of staycations doubling over the last three years.
Seven out of 10 households will take a break somewhere in the UK this year, according to the yearly Travelodge holiday index.
Popular destinations include Devon and Cornwall as well as the Lake District.
Cities such as London and Brighton also make an appearance in the top 10, but driving to the sea seems more important than city breaks to most this year.
Great Yarmouth, the Isle of Wight and Bournemouth in the south and northern resorts such as Scarborough, Blackpool, Whitby and Skegness are all set for a spike in visitors.
More than half (51%) of the 3,000 households surveyed say they will take a number of short breaks throughout the year, rather than one big summer holiday.
Over a third (34%) plan to go away twice, 37% will make three trips and 12% want to go away four times.
With more people holidaying at home increasing amount of holiday traffic, it is crucial to plan your routes carefully this summer to avoid any unnecessary delays.
Travelodge chief executive Peter Gowers says 2014 is likely to be the year of the staycation, with more Britons going out to see what their country has to offer.
The hotel chain estimates that holidaymakers will spend £15 billion staying the UK this year, up £3.2 billion on 2013.
Copyright Press Association 2014