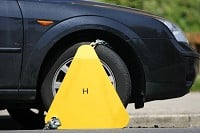 As many as 64% of motorists in the UK have been wheelclamped in the last 12 months, with 4% of them suffering damages to their vehicles during the operation.
According to figures from insurance company LV=, local councils took £21 million in clamping fees in the last year, while private clamping firms took £58 million.
Around 17% of drivers said they were clamped even though they thought they were parked legally, and nearly 59% said there was little or no warning displayed to indicate they were parking in a private space.
Again, 11% of those clamped by private firms said their vehicle was not released immediately even after they had paid the release fee.
Some experts believe the clamping industry needs to be better regulated by the Government, to help putting an end to heavy handed tactics and ensure that there is a fair and consistent approach across the UK by all firms.
Stephen Glaister, director of the RAC Foundation, said: "This survey echoes our own research and just underlines the scale of the problem created by unscrupulous clampers. In many cases drivers are suffering grossly unfair and disproportionate penalties for what are, at worst, minor parking indiscretions."
Copyright © Press Association 2009