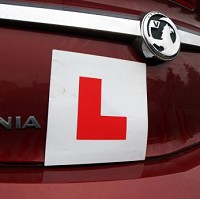 The number of people learning to drive has risen for the first time in six years, according to official figures.
Statistics show that in the UK between last April and this March 1,477,585 car practical tests were taken - 2.9% more than the previous year.
The rise, which follows six years of declining numbers, demonstrates that people are starting to feel comfortable enough to pay for driving lessons and ultimately buy a car, according to the Driver and Vehicle Standards Agency (DVSA).
Experts from the group said it adds further weight to the belief that the economy is finally starting to recover from recession.
Over the past six years test numbers have fallen by a total 16%, with the credit crunch to blame for people spending their money elsewhere, according to a report from the DVSA.
There was also a big rise of 23.9% in the number of theory tests taken in the last year. However it is thought some of the 1,541,896 tests taken could have been resits due to changes to test questions in January 2013.
The DVSA says the rise in the number of learners is even more surprising given that there was a decline in birth rates in the 1990s meaning there are fewer people in the 17-20 age bracket now.
Separate reports have linked an increase in traffic on the roads with the economic recovery, with more white vans on the roads than before.
Copyright Press Association 2014