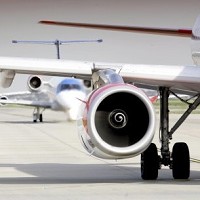 Many more people die from exhaust emissions than in road accidents, according to figures published in the Environmental Science and Technology journal.
More than 5,000 die prematurely of conditions like lung cancer and heart disease and this figure is thought to rise to a further 2,000 per year due to emissions from aeroplanes.
Combining these figures with the emissions from energy and industrial sectors as well as pollution coming from Europe and the total amount is up to 19,000 deaths per year in Britain.
However, only 1,850 were killed as a result of road accidents in 2010, official figures show.
Professor Steven Barrett, leader of the study, said: "It does appear to be the case that air pollution from road traffic causes more deaths per year than the number who die on the roads."
However, he went on to say that people who die from air pollution die around 10 years earlier than they would have but road accidents can kill those of any age so the loss of life is likely higher from road accidents than emissions, despite the figures.
In the study, it was suggested that 40% of the major pollutant, larger particles measuring up to 2.5 micrometres in size, come from abroad.
Copyright © Press Association 2012