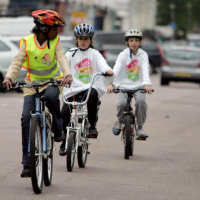 More children are killed or seriously injured on UK roads during the summer than in the winter, new RAC research shows.
The findings have prompted the RAC Foundation to call on motorists to look out for children playing near roads now that the clocks have gone forward.
The research is based on child casualty figures covering a five-year period from 2010.
It shows that July has the highest number of child casualties while December has the lowest.
Some 2,250 children aged under 15 were seriously injured or killed over the five-year period. Of them 227 were killed or seriously hurt in July compared to 122 during the month of December.
One in eight (13%) of the child casualties were children, while two-fifths were pedestrians, according to the research.
The RAC Foundation says the figures may be down to more children playing outside during the lighter evenings and warmer weather and a greater number cycling and walking to school.
It says although the number of child road casualties peaks between 3 and 4pm, many young people are being killed or seriously injured during the following hours.
RAC Foundation director Steve Gooding says the findings contradict the commonly held belief that children are at most risk when the days are shorter and the weather poorer.
He adds: "We don't want to wrap our children in cotton wool, and walking and cycling are generally good for our health, so as adults and parents we need to lead by example whether we are driving a car, crossing the road or on two wheels."
Pete Williams, meanwhile, a trustee of the RAC's Road Safety Awareness Charity, adds: "It is the responsibility of all drivers to be mindful of the risks of young road users and children playing around and near roads and to reduce their speed and increase their vigilance.
"But more needs to be done to address road safety education in schools and across the board to ensure our young people are alert to the potential dangers."
Copyright Press Association 2016. Motoring News articles do not reflect the RAC's views unless clearly stated.