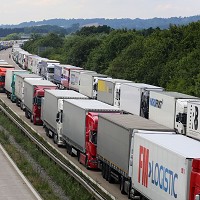 Travellers trying to cross the Channel are again facing delays after a migrant died as hundreds tried to enter the Eurotunnel at Calais.
The escalating crisis in France has prompted David Cameron to pledge that the Government will do everything in its power to improve the situation.
Cross-Channel services were also disrupted on Monday night after 2,000 migrants tried to gain entry to Eurotunnel's French terminal.
Holidaymakers driving abroad are among those who have had their plans thrown into disarray. Motorists are experiencing delays on the M20, and Kent Police have reintroduced Operation Stack, leading to long tailbacks of lorries.
Operation Stack is where trucks are parked on sections of the motorway to avoid total gridlock on Kent's roads, with junctions 8 to 13 closed to non-freight traffic.
A French spokeswoman for Eurotunnel, which operates Channel Tunnel services, confirmed that one migrant died on Tuesday night after 1,500 tried to storm the tunnel.
The man is believed to have been hit by a truck as he tried to climb over a shuttle.
The latest victim is the eighth to be killed at the tunnel since the beginning of June. He is thought to be a Sudanese national aged in his late 20s, according to French media.
The death comes as Home Secretary Theresa May chairs a meeting of the Government's Cobra emergency committee about the migrant crisis.
The Prime Minister, who is currently touring south-east Asia to forge trade links, has described the crisis in Calais as "very concerning", promising that the Government "will do everything we can" to tackle it.
Speaking during a visit to Singapore, he expressed his sympathy for holidaymakers who have had their travel plans disrupted by the disturbances, but said there was no point in "pointing fingers of blame".
The Government has announced an extra £7 million of funding to improve security at Calais and the entrance to the Channel Tunnel.
Copyright Press Association 2015