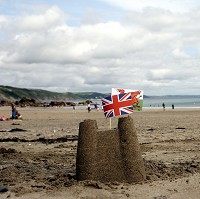 More UK tourists are hitting the road and opting to holiday in England this year, according to new figures.
A later - and milder - Easter helped boost British holiday making this year, according to VisitEngland. Domestic holidays taken in England by people from the UK as a whole over April rose by 10% to 3.8 million, in tandem with a spending rise of 5%.
The recovery followed severe flooding which struck in many parts of the UK earlier in the year. Holiday trips for the first four months of 2014 were on a level with those seen a year previously, while spending was up 6%.
The rise has fuelled business confidence that people will take a journey somewhere in England during the 2014 holiday season, with strong booking figures recorded already.
VisitEngland said more than 70% of guest house, bed and breakfast and hotel providers have reported an increase and are in a confident frame of mind ahead of the rest of the holiday season.
Chief executive of the tourist body, James Berresford, says these statistics show that despite the extreme weather that battered the UK in the early part of the year, tourism is in robust shape, with holidays in England continuing to show strength in the marketplace.
Copyright Press Association 2014