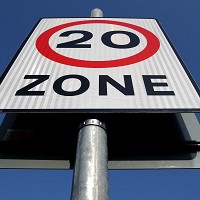 A new survey has revealed that drivers could have to go slower in built-up areas soon as more councils are considering 20mph zones.
The research, which was conducted by The Independent, found that 27 of the 75 local authorities that responded have either already brought 20mph zones in or are currently considering introducing them.
Six councils are waiting for new guidelines from the Department for Transport (DfT) before making a decision but a separate poll has also discovered that there is now 60% public support for a blanket 20mph limit in built-up areas.
Eight million people already reside in areas where councils have introduced 20mph limits, such as parts of London, Liverpool, Bristol, York and Newcastle-upon-Tyne, and the policy is particularly popular with women, youngsters and pensioners.
Official data released in August shows that the number of people killed or injured on roads with a 20mph speed limit rose by 24% between 2010 and 2011 to 2,262, while casualties on 30mph roads fell by 1% to 125,494 during the same period.
Drivers wanting to avoid the 20mph zones will need to consult ajourney planner before setting off.
Copyright Press Association 2013