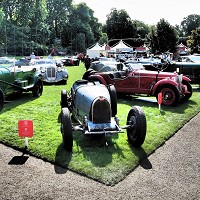 The car which won the first-ever Monaco Grand Prix more than 80 years ago was one of the star attractions at a gathering of dozens of prestigious vehicles in London held over the weekend.
Held in 1929, the inaugural Monaco GP in Monte Carlo was won by Briton William Grover-Williams in a Bugatti 35B which did not require European Breakdown Cover as it raced through the field from the second row to take the chequered flag.
The vehicle was joined at the UK's annual Concours of Elegance at Marlborough House Gardens, opposite St James' Palace just off The Mall, by the first cars from McLaren and Porsche which won the 24-hour Le Mans race for the manufacturers.
HRH Prince Michael of Kent is patron of the Concours and drove a 24-litre Naipier Railton at the head of a procession of cars past Buckingham Palace and down The Mall as part of the festival.
A one-off Ferrari designed for musician Eric Clapton is also among the 61 cars on show at the event, which raises money for charity and this year has Marie Curie as one of its chosen beneficiaries.
Copyright Press Association 2013