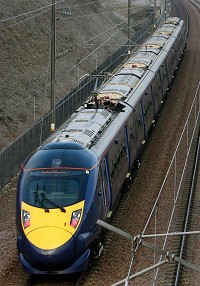 Building a high-speed rail facility for the UK would only bring "modest" environmental bonuses, the RAC Foundation has warned in a report.
The report queried whether the money spent on the London to Scotland line - which could be up to £27 billion - would be better spent solving other transport issues.
There was also a danger, Professor John Preston of Southampton University added, that the line would create more demand for travel despite reducing car and plane usage.
He also said that the recent studies on north-south high-speed lines had been "uni-modal" and did not offer comparative examples of the benefits to be derived from investing in other transport projects, for example congestion-relieving road schemes
Prof Preston said the predominant benefits of a north-south high-speed line would be time savings for rail users and net revenue to the rail industry.
Commenting on the report, RAC Foundation director Professor Stephen Glaister said: "In a world where every penny counts there are big questions to be asked about whether billions of pounds lavished on HSR would be money well spent, or whether it should instead be directed towards other types of transport project."
Copyright © Press Association 2009