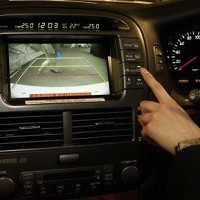 Comfortable and convenient high-tech cars could be driving motorists to distraction.
This warning comes from a safe driving charity which says that gadget-packed vehicles are thwarting efforts to improve driver concentration.
Devices such as sat-navs have helped millions of motorists to safely and less-stressfully navigate their way around more easily.
But the Institute of Advanced Motorists (IAM) thinks Britain could learn a lesson from the US, after claiming manufacturers are effectively turning cars into lounges. It wants the UK government to borrow recommendations from America's transport safety officials.
US guidelines suggest motorists should refrain from using certain technology which isn't essential while a car is moving.
They also advise car manufacturers to not launch new interior technology which diverts a motorist's attention away from the road for over two seconds.
Future car technology can be exciting. But as things stand in the UK, says Sarah Sillars of IAM, easy social media and website connectivity, tablet-like smartphones and up-to-date GPS and sat-nav systems are worrying innovations.
The US discretional guidelines are set to be rolled out between now and 2018. These follow US Federal statistics which show that distraction-related road accidents resulted in 3,331 deaths and 387,000 injuries in 2011 alone.
The distraction problem was even worse among teenagers, according to the data. The primary cause of deaths among this age group was a crash, while one in four US road accidents among 13-19-year-olds were blamed on distractions.
Ms Sillars says such figures mustn't be allowed to replicate themselves in the UK.
She said while manufacturers are constantly striving to make their machines safer, they also stand guilty of introducing features which make drivers too comfortable.
This, she said, can make drivers feel as "cosseted" as they are in their own lounges.
Ms Sillars thinks that ongoing education is the answer to meeting the growing challenges presented by constantly shifting technology.
She describes much technology as "great' for helping to reduce the amount of casualties and fatalities on the UK's roads. But it would be tragic if such innovations actually became a cause of more lives lost.
Copyright Press Association 2015