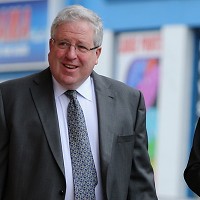 Drivers still feel they can get away with using a mobile at the wheel, according to RAC director Professor Stephen Glaister - as the Government considers toughening punishments.
The Transport Secretary Patrick McLoughlin is looking into a call from the Commissioner of the Metropolitan Police for the penalty - currently three points on the licence - to be doubled.
Sir Bernard Hogan-Howe wants a six-point hit for using a hand-held phone while driving, which would mean an instant ban for anyone caught twice within three years.
Mr McLoughlin admitted this is an "interesting" idea, and could help cut the number of deaths and serious injuries caused in incidents where a phone is involved - which he branded "appalling".
RAC Foundation director Prof. Glaister says the issue is more about enforcement of the rules, than what happens when people are caught breaking them.
He said: " Our own research shows how dangerous using a mobile at the wheel can be. Texting while driving impairs reactions more than being at the drink-drive limit or high on cannabis.
"However the large number of motorists still using phones at the wheel is less about the size of penalties and more about the chance of being caught."
Sir Bernard of the Met called for the tougher penalty in March after data revealed an increase in people dying and being badly hurt on London's roads. It's the first time the figure has gone up for 20 years.
Using a hand-held mobile while driving was outlawed in December 2003.
Professor Glaister adds: "The Department for Transport's own figures show that on two previous occasions when this law was tightened and fines increased the number of people offending initially dropped but then rapidly rose again.
"The conclusion must be that drivers simply don't think they are going to be caught."
Copyright Press Association 2014