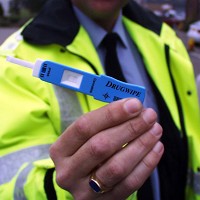 Police officers will soon be able to check whether motorists are driving under the influence of cannabis or cocaine, after the Government approved the first ever portable drugs-testing device.
Drugwipe can detect traces of the two substances in people's saliva, with lines appearing on the device within eight minutes if the results are positive.
Those tested positive for cannabis or cocaine will then be taken to a police station, where a blood sample will be taken to provide further evidence if the case goes to court.
RAC spokesman Simon Williams said: "Driving under the influence of illegal drugs has been a growing problem for many years, but the problem has been the lack of a quick and effective roadside test that the police can use.
"The approval of Drugwipe is a significant step forward and could provide the police with a highly effective means of testing for these two very common drugs, and will be more convenient for those motorists taking the test who have not been using illegal substances.
"There is certainly plenty of public support for such a move, as our research has found that motorists, while being tolerant of speeding, are much less forgiving of those who drive regularly, or excessively, under the influence of drink or drugs.
"It is illegal to drive if you're unfit to do so because you are under the influence of drugs - whether legal or illegal. The RAC fully supports the punishment of motorists who 'drug drive' and believes a clear message should go out to those that drive under the influence of drugs that it is completely unacceptable and should not be tolerated."
The move was announced by Mike Penning, minister for policing, at a road policing conference.
He said taking stronger action on drug drivers has long been his ambition as they represent a "deadly menace".
Mr Penning added that those who take to the road while under the influence of drugs are not only a danger to themselves but also to other road users, including "innocent pedestrians", drivers and passengers.
Copyright Press Association 2015