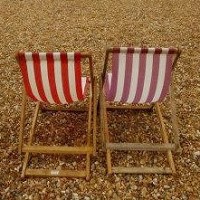 A mix of sun, rain and windy weather is expected over the Bank Holiday weekend, forecasters have said.
Britons who decide on a "staycation" will have to put up with the risk of rain along with a lot of traffic and disrupted rail services. Nearly two million people will spend the weekend abroad.
Following mixed weather until Sunday, the Bank Holiday will see brighter skies, and London could experience temperatures of around 25C.
Friday will be blustery and showery, forecaster Steve Ellison of MeteoGroup, the Press Association's weather division, said.
But with high pressure mounting over the south of the country, England and Wales will see mostly dry weather on Saturday.
Mr Ellison said: "A ridge of high pressure over southern areas means tomorrow will be dry for much of England and Wales with just a few light showers in the North and Scotland.
"On Sunday, cloud will spread from the South West with a few spots of drizzle. It will remain breezy with temperatures around 20C.
"Monday will be a warm, dry day across south-east England. Temperatures will reach around 25C in London."
There will still be cloud and some rain clinging on in the West and he warned that people in western Scotland should be prepared for heavy showers.
Copyright © Press Association 2009