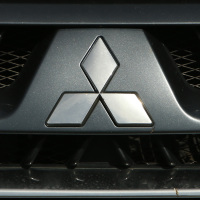 Mitsubishi Motors has admitted manipulating test results to enhance fuel efficiency rates on hundreds of thousands of cars.
The discovery relates to 625,000 vehicles in Japan, with two of the firm's own-brand vehicles and two models it makes for Nissan affected.
Lance Bradley, managing director of Mitsubishi Motors in the UK, has said there is no evidence to suggest the issue affects cars in the UK.
Employees of the firm were said to have falsified tyre pressure figures in order to give the impression of improved efficiency levels.
The issue affects around 157,000 Mitsubishi ek Wagon and eK Space cars, in addition to 468,000 of Nissan's Dayz and Dayz Roox.
All four models are said to be popular with drivers in Japan, though less so elsewhere.
Discrepancies in the test results were first uncovered by Nissan after it carried out its own examination of the motors.
These inaccuracies were raised with Mitsubishi, which subsequently found evidence of "improper conduct" and reported the findings to Japan's transport ministry.
At a press conference on Wednesday April 20, company chiefs apologised for the errors, with Mitsubishi Motors president Tetsuro Aikawa saying he felt responsible.
The company, which is Japan's sixth largest car manufacturer, said it is to halt production on the affected cars and discuss compensation with Nissan.
Mr Bradley said: "Mitsubishi Motors Corporation has acted quickly and decisively.
"We understand that such issues are of great concern to consumers. I would like to reassure everyone that there is no evidence to suggest that UK or European models are affected."
Copyright Press Association 2016. Motoring News articles do not reflect the RAC's views unless clearly stated.