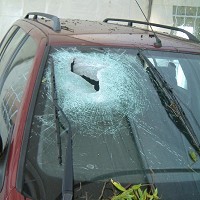 Britain's motorists are finding themselves increasingly under missile attack from mindless vandals.
An Autoglass Freedom of Information request has unearthed that the number of recorded incidents of motorists pelted with potentially fatal objects, such as bricks, more than doubled to 1,021 last year.
But Matthew Mycock, managing director of Autoglass, said that the true extent of the problem is unknown, since many incidents go unreported.
He said: "What may seem a prank to some yobs is likely to result in tragedy and must be stopped."
Mr Mycock called on more motorists to report incidents to police to prevent future fatalities, adding: "Our customers tell us about a wide range of problems they face on the roads each day, but this is by far the most distressing."
The study also shows that three-quarters of the incidents reported ended in arrests.
Copyright © Press Association 2013