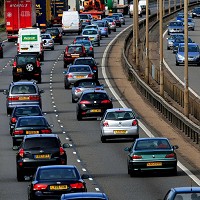 Introducing new tolls on British roads would be like "the poll tax on wheels", according to one campaigner.
Peter Roberts, from the Alliance of British Drivers, warned that expanding the toll system would create a huge backlash from voters.
Ministers are reportedly considering a number of reforms, such as allowing companies to charge tolls on major new roads, which may affect the amount of spare cash drivers have for essentials such asbreakdown cover .
A report on financing the road network is due to be published in 2013, while the Government's mid-term review is also expected to tackle the issue.
The Department for Transport has insisted that it will stick to its pledge to restrict tolls to new major roads or those which have been significantly upgraded.
But Mr Roberts said 1.3 million people had signed a petition against nationwide road pricing in 2007, making their views "very, very clear".
He told the BBC: "I think it would be electoral suicide... kind of like the poll tax on wheels. Most drivers already believe they are paying too much for the roads."
Copyright Press Association 2012