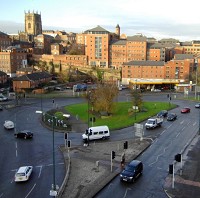 Motorists, pedestrians, businesses and authorities have been urged to share their views on how to enhance air quality.
The Government's new plans for consultation place heavy onus on the benefits of green technology.
The RAC has praised ministers for taking a pro-active lead on air pollution and not singling out and demonising diesel drivers.
The Government has put out its plans for cleaner cities and towns to consultation, along with a nationwide nitrogen dioxide (NO2)-fighting framework.
This aims to help Britain achieve the NO2 targets in London over the next 10 years, and some other areas over the next five.
David Bizley, chief engineer of the RAC, says: "We have been saying that central Government needs to take a lead on helping local authorities manage air quality issues caused by oxides of nitrogen that can be harmful to health.
"This Government's air quality consultation addresses many of our main concerns around demonising diesel cars as it recognises the contributions of all sources of nitrogen dioxide, not just cars which generally contribute less than buses and lorries.
"It also takes a tiered approach and targets only those areas where existing measures will not deliver the required improvements.
"Very positively, it proposes a framework for clean air zones to ensure a consistency of approach, thereby discouraging ill-informed knee-jerk reactions such as that of Islington Council with its £96 annual surcharge for residents with diesel vehicles.
"If implemented sensibly the proposals will make a valuable difference to local air quality but the big question is whether central government will be able to require local authorities to stick to the framework?"
Ministers say even Britain's most heavily-congested cities are reporting reductions in damaging discharges, claiming that the environment is the cleanest ever. They add that typical roadside NO2 levels have dipped by 15% over the past five years.
But more needs to be done to hit clean air objectives. This is especially the case in Nottingham, Derby, Southampton, Birmingham, London and Leeds.
Earlier this week it was reported that diesel vehicle-driving motorists may face restricted access in these cities .
Clean Air Zone developments, electric vehicle charging points, cycling route upgrades, more park-and-ride projects and low-emission taxis and buses may be among their answers, the Government report now suggests.
Copyright Press Association 2015