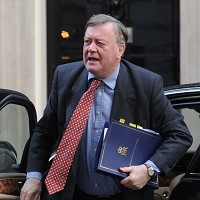 The Government is set to clamp down on whiplash claims, as ministers seek to address the country's "compensation culture".
An estimated 1,500 whiplash claims are made per day in the UK, which add around £90 to the average annual car insurance premium and cost the country in the region of £2 billion per year.
Justice Secretary Ken Clarke revealed that he is shocked by the scale of the problem and has announced planned reforms to the system that he hopes will dramatically reduce fraudulent claims.
"It is scandalous that we have a system where it is cheaper for insurers to settle a spurious whiplash claim out of court than defend it, creating rocketing insurance premiums for honest drivers.
"Our reforms will put a stop to this," he said.
"We will weed out fraudulent claims by tackling questionable medical evidence. We will enable drivers' insurance companies to defend claims thoroughly and strongly encourage insurers to pass on the savings back to their customers."
A Whitehall summit will now be held with transport secretary Justine Greening to discuss specific measures in detail, with the intention of challenging current medical evidence and empowering insurance firms to contest claims so that they can save money for the average motorist.
Copyright Press Association 2012