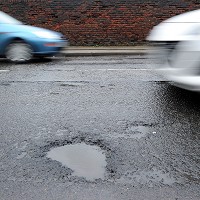 Roads minister Robert Goodwill says councils have "no excuse" for not fixing potholes on the country's roads.
He said it is "rich" for local authorities to complain that cuts by central government are damaging the roads in Britain.
Councils have warned that the UK faces a major pothole crisis due to the government's austerity measures and recent harsh winters.
Some £10.5 billion will be needed to return the country's roads to a good standard, according to the Asphalt Industry Alliance, which represents firms that manufacture road surface materials.
But Mr Goodwill told the Telegraph: "They have a responsibility to ensure that the road is safe and operational.
"We have given them an increased budget line for roads maintenance, there is no excuse for not mending the roads.
"The local authorities are rich to talk about cuts. We provided £3.4 billion to local highway authorities from 2011 to 2015, specifically for highways maintenance.
"We have given them the tools to do the job. If they use the money wisely they can get ahead of the curve in dealing with potholes."
Councils in Britain fixed some 2.2 million potholes last year, 20% more than the year before.
However, the Local Government Association has warned that another harsh winter could be the "tipping point" that forces roads to shut.
The number of motorists claiming for pothole damage has risen by 79% in the past year according to a recent study.
Copyright Press Association 2013