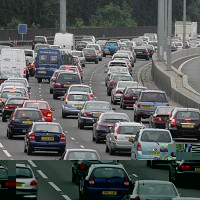 Transport Minister Sadiq Khan has attended the launch of a £580 million scheme to widen part of the busiest motorway in Britain.
He was at Denham, Buckinghamshire, where the M25 is being widened from three lanes to four. The work will cover the 22-mile section between junctions 16 and 23 where the motorway meets the A1/M in Hertfordshire.
It is part of a £6.2 billion work-and-maintenance contract for the M25 - expected to last 30 years.
Mr Khan said: "This marks a major step forward in our commitment to building Britain's future and increasing capacity on the busiest sections of motorways and trunk roads.
"This vital scheme will tackle the nuisance of congestion, improve journey time reliability and safety and help boost the productivity of our businesses.
"Everyone who uses these important stretches of motorway, whether business or leisure travellers, will benefit from the massive investment.
"It is also a huge boost to the economy. The construction schemes will employ between 3,500 and 4,000 people until 2012 in addition to around 850 people employed on the 30-year operations and maintenance work."
Copyright © Press Association 2009