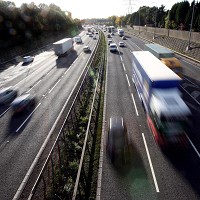 Transport secretary Patrick McLoughlin said motorway safety would be uppermost in his mind when considering the advantages and disadvantages of allowing the speed limit to be increased to 80mph.
Former transport secretary Philip Hammond was the brains behind the proposal but Mr McLoughlin has been more cautious and stated "speed does kill".
During 2011 Mr Hammond said the present 70mph limit was "discredited" and placed the law "into disrepute". The Government is now conducting research on proposals to increase the threshold on English and Welsh motorways.Breakdown cover is essential for any motorway driver to guard against being stranded on a busy carriageway.
Mr McLoughlin took over as transport secretary during October's reshuffle. He added caution to the clamour to increase the limit by saying that serious accidents happened when people were breaking the speed limit.
McLoughlin said on the Murnaghan programme on Sky News: "What's very important is that we never lose sight about the issue of safety on our roads.
"First and foremost in my mind will be road safety, but I will look at the evidence - there's a consultation taking place on that.
"But nothing will detract me from what is safe overall, and road safety and our record on road safety has to be paramount in my mind.
"What we have to have in our mind is that speed does kill and most of the very serious accidents that take place on our roads involve people disobeying the speed limits."
Copyright Press Association 2012