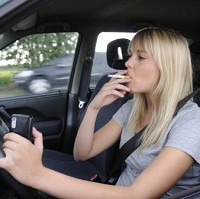 Health Minister Anna Soubry has called for legislation to ban smoking inside cars where children are present.
Ms Soubry told the Local Government Association's annual public health conference that she sees the ban "as a child welfare issue".
"I think it is something we should at least consider as government," she said.
The Department of Health has already launched a series of advertisements encouraging parents not to smoke in the presence of children, either at home or in vehicles.
The Government is currently unwilling to introduce legalisation that will prohibit people smoking in private cars, with David Cameron reportedly 'nervous' about a ban.
Ms Soubry admitted that there have been no plans to outlaw smoking in cars as yet.
"It remains the case that smoking is one of the biggest challenges in public health and as such it requires a range of responses, including encouraging people to change their behaviour - which is why we will soon repeat a national marketing campaign to remind smokers of the risks of exposing children and adults to second hand smoke," she said.
Copyright Press Association 2013