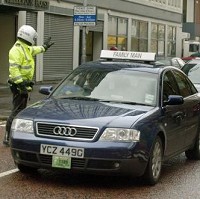 Police chiefs are calling for safeguards relating to the use of marked minicabs to be kept in place, amid fears that deregulation could put the public at risk.
At the moment marked private hire vehicles can only be used by licensed private hire drivers.
But if the planned Deregulation Bill comes into force anyone would be able to drive a minicab for their own use when it isn't being used by the registered driver.
The Government says the move would save money for minicab drivers and their families, as they would not require a second car.
But the Police and Crime Commissioners say it could result in people getting into minicabs that aren't being driven by their licensed operators.
The group, led by Tony Lloyd, the police and crime commissioner for Greater Manchester, is calling for the proposed change to be scrapped.
Mr Lloyd admits that the current system isn't perfect but said the safeguards give people the confidence that the vehicles they get into are being driven by licensed operators.
He says the Bill would lead to a 'free-for-all' that could result in more people being attacked or assaulted.
Copyright Press Association 2014