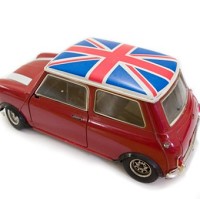 It was considered an icon of the 1960s and even starred in its own cult classic movie.
And now the original Mini has been voted the greatest British car of all time in a poll carried out to mark the news that British car manufacturing is forecast to reach its highest ever level within three years.
The Mini, which played a starring role alongside Sir Michael Caine in The Italian Job - an adventure for which havingEuropean breakdown cover would definitely have been advisable - edged out the Land Rover, Jaguar E-type, McLaren F1 and the Range Rover to take top spot in the Autocar poll.
Autocar's editor-in-chief Steve Cropley said: "The Mini had many faults and was never profitable but it rewrote the rules and had the biggest impact on Britain's car industry that any car has had."
More than two million cars are expected to be built in Britain in 2015, which will eclipse the 1.92 million made in 1972. With growing numbers of foreign car makers such as Nissan, BMW and Land Rover investing in manufacturing facilities in Britain some 1.34 million cars were built here last year, more than 80% of them for export.
Copyright Press Association 2012.