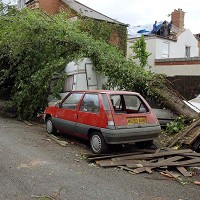 Residents of the seaside town of Hayling Island in Hampshire are facing up to a huge clean-up operation after a mini-tornado wreaked havoc.
Hampshire Constabulary received reports of damage to cars and houses from trees and telegraph poles, as the unusual weather swept along the south coast.
Officers were now working with partner agencies including Hampshire Fire and Rescue Service, Hampshire County Council and Havent Borough Council to clean up the area. Nearly 100 houses were damaged by the high winds and rain, with emergency vehicles having to attend to stranded cars damaged by falling trees and broken fences, according to the Portsmouth News.
No injuries were reported, a Havent Council spokesman said, who said the worst damage was reported in the Blackthorn Road and Ilex Walk areas.
The spokesman said: "Emergency services are at the scene and Havant Borough Council (HBC) is working with Hampshire County Council Highways to clean up the debris. HBC building control officers are assessing the damage to the affected properties and more will be known once inspections have been carried out."
Copyright Press Association 2013