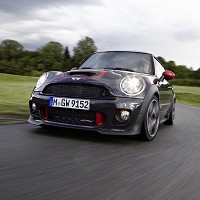 Plans for a new top of the range Mini have been revealed, and the model is likely to be in great demand as supply in the UK is being limited to just 2,000 units.
The John Cooper Works GP model has the same name and follows the same recipe as another model from some years ago and engineers will concentrate more on the car's driving dynamics rather than outright performance.
The JCW's 1.6 turbo petrol motor has only been given a slight performance boost of 7bhp to 215bhp and a fraction more low down torque, but the GP will benefit from a host of chassis, aerodynamic and suspension tweaks.
Trick dampers and tyres and a reduced ride height are prominent features that make a real difference on the road and, as with the previous model, the rear seats have been taken out to make room for a strut brace.
Substantial sports seats and a number of specific styling details have also been added to make sure you are aware that you are in an extra special Mini and, with production of the 2,000 cars starting later in the year, you can get your hands on one for £28,790.
Copyright Press Association 2012