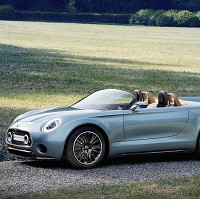 A trio of Minis famously stole the show in The Italian Job, the classic 1960s crime caper starring Michael Caine.
And now Mini has unveiled a concept sports car, built in conjunction with Milan-based coachbuilders Touring Superleggera and based on its classic designs.
The Mini Superleggera Vision was unveiled at the Concorso d'Eleganza Villa d'Este car show at Lake Como in Italy.
Although Mini has not yet commented on the issue experts believe the concept coupe could herald a new model in the car maker's line-up.
Adrian van Hooydonk, a senior vice president of BMW which owns Mini, said the iconic design features of Mini and Touring Superleggera had been combined to create the Vision. He said both brands are steeped in a rich history which still defines their cars' look today.
Down the years cars incorporating the Touring Superleggera chassis construction technology have been built by Ferrari, Aston Martin, Lamborghini and Alfa Romeo.
Copyright Press Association 2014