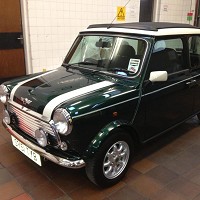 An "amazing" last-of-line Mini is being put up for sale next month at a new classic motor auction house's inaugural auction.
Enthusiasts buying a car from the Rover Mini Cooper's range looking for something big on history and low on mileage need look no further.
Despite being 14 years old, this featured car at CCA's Silverstone circuit auction on March 3 only has 182 miles on the clock.
It was the final original new Mini ever sold in Scotland and is expected to fetch £14,500 to £16,500.
A Scotland-based private collector bought the Longbridge-crafted Mini and took it to Orkney. Here it was kept in a warm garage over 12 years.
The "as-new" car is still in an "untouched" and "amazing" condition, according to Joe Watts, CCA auction manager.
The model still bears many of its novel original features, such as its inaugural key fob and tax disc. It has never even had to take advantage of the original dealer's complementary service offer.
The Mini will be one of over 80 classics in the CCA lots in an event which will be attended by Quentin Willson, the classic car specialist.
Copyright Press Association 2015