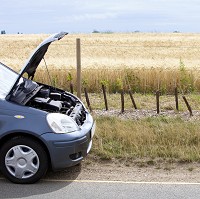 The RAC is urging motorists to give their vehicles the once-over ahead of an expected mini-heatwave next week.
Temperatures could exceed 30C (86F) in parts of the UK, with tennis fans at Wimbledon likely to feel the heat.
The hot spell will begin on Monday, as a warm front moves in from Europe.
But while the prospect of prolonged sunshine is an attractive one, the intense temperatures can cause a number of problems on the roads.
RAC head of external affairs Pete Williams is calling on drivers to carry out a quick vehicle check to help avoid a breakdown .
"Temperatures are at the level we'd expect for late June, but there are a few more days to go before the heat is forecast to rise noticeably for much of the UK," he says.
"Aside from overheating, our patrols tend to fix all sorts of other issues when temperatures peak - including problems with convertible roofs, air conditioning units and seized up bonnet catches.
"Some of these suggest motorists aren't checking their vehicles all that often, so the message is do a bit of simple maintenance this weekend to lessen the chances of a breakdown in the heat next week."
Southern parts of the country will see the mercury rising into the high 20s on Monday, possibly 30s on Tuesday, making it hotter than Athens. Scotland could also see temperatures in the low to mid 20s.
The hot weather is expected to last until Thursday, when temperatures will return to those normally associated with this time of year.
There is also the potential for thunderstorms, especially in the south, as the warm front passes.
Copyright Press Association 2015