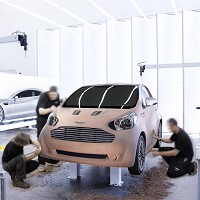 British carmaker Aston Martin has revealed details of its "baby" concept car which could hit the production line soon.
The new Cygnet design has been based on the Toyota iQ car, but is set to raise the stakes in luxury, offering commuters "urban travel in style and luxury".
Car enthusiasts are used to seeing Aston Martin super cars appearing in James Bond films, but this miniature Aston could soon become a popular feature of supermarket car parks.
Aston Martin chief executive Dr Ulrich Bez said: "Now is the right time for Aston Martin to take this first bold step to embark on this special project - made possible with the support of an organisation of Toyota's stature and capability and the intelligent design and perfect city car package of the iQ."
Work is still continuing to complete the project, but Dr Bez said he is confident it will become a reality in the "not-too-distant future".
The company said the Cygnet will offer drivers "a distinctive, intelligent and exclusive solution for urban travel".
The new design comes as a number of luxury manufacturers start to include high-priced small cars in their range, including a baby Rolls Royce.
Copyright © Press Association 2009